You have to start somewhere and since we focus on the 1881-O that is where we look. For that reason our acquisitions will be few and far between. We will also document each as we find them as we would any other coin and give as much detail as possible.
​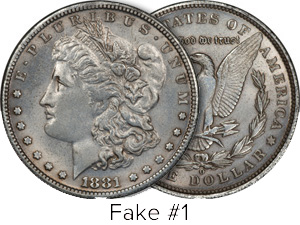 (Click on the Image for more detail)
This coin was our first purchase in 2016 and actually advertised on eBay as made in China.
On-line auctions have become the defacto standard for many to purchase coins. But they also offer the perfect vehicle to distribute counterfeit coins. It was on an advertisement very similar to this one where we intentionally purchased Fake #1.
​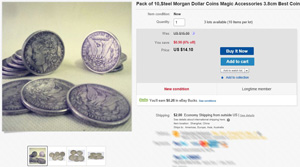 (Click on the image for a larger view)
The coins are usually sold as accessories for magic tricks or novelty items. In this ad the seller even discloses that he/she is operating from Shanghai, so there is no deception there. It is also disclosed that the coins are not real.
But the problem comes with the purchaser because the seller cannot guarantee that the purchaser will use them as intended, and these are counterfeit coins.
From time to time we challenge these sellers just to vent our frustration, but it does no good. The defenses usually fall into these categories.
We disclosed that they are fakes
They are not for circulation, just fun
It isn't illegal to make coins that are no longer in circulation
No one told me I could not make them
I just import them, I don't make them
When you see them complain to the on-line retailer. It doesn't stop them but it does slow them down.