As time passes, VAMs sometimes change designation as we learn more or have more examples to work with in our study. As of July 2017 we have nine know VAMs with the "Bearded Eagle" feature. The feature known as the "Bearded Eagle" arises when a clashed die has a portion of Liberty's hair transferred to the reverse die. On the reverse die this hair is revealed above, below, or above and below the eagle's head and neck area.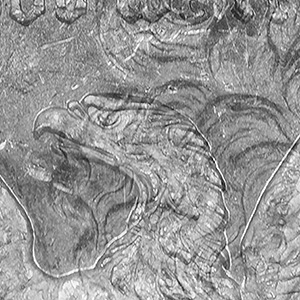 Bearded Eagles are not unique to the 1881-O and appear in clashed varieties for many date/mint series. In the 1881-O series the most dramatic example is VAM 1B2 where the hair is visible both above and below the neck. All other varieties have hair exposed only below the neck. One must also remember that dies can rotate slightly, especially when clashed. So the alignment of the hair might be similar to this image, but not exact.
Below are explanation for each of the nine varieties for the 1881-O. You can click on the title to go to the VAM page for that variety and see more examples.