The purpose and intent of our web site is to explore the breadth and depth of a single coin issue. Our presentation is here to increase both knowledge and understanding of the 1881 Morgan Dollar minted in New Orleans.
In our opinion to discover new VAMs you need to dive deeply into a single coin issue and never accept the premise that there are no remaining discoveries.
We had six coins that were being evaluated by Leroy Van Allen to confirm if they were new VAMs. On April 30 we received confirmation that we did in fact have three new varieties among the group. The VAMs are now designated as 52, 53, and 54. The details are being posted here and on VAMworld now.
The credit for these discoveries goes to John Baumgart for his work in identifying these coins.
During April 2015 we were able to acquire a number of coins for our collection to help with grading comparisons. We currently have 100 coins at VSS for confirmation and photography. We are hoping that we will have this group of coins up on the web site before the end of May. There is a group of 24 coins at PCGS for grading . Roughly half of the group is below MS grade and half above. We believe these could range from FR-02 to MS63PL, but grading is always a challenge and below MS grades, the evil N grades tend to creep in more often.
More importantly there are a number of nice key VAMs, some pre-certified by PCGS. We picked up PCGS certified VAM 27 Double Ear coins in AU53 and AU55. We have a number of others in the process of identification and should have nice comparison coins from AU-50 through low MS grades soon for the top 1881-O VAM.
Also in the group were two VAM 1D Pummeled Eye coins varieties and two VAM 5 O/S. These were already PCGS certified, so there is no discussion about their variety.
In addition to the PCGS certified coins, there were nine other acquisitions. Our intent has been to focus on grade 64 and up for the next few months, but there were not as many attractive coins as in months past.
So instead we focused on filling VAM gaps and on PL and DMPL coins below grade 64 where they were available at attractive prices. But the number of PL and DMPL coins seems to have dried up for now, so this progress will be slow.
In the total group of 124 coins mentioned here we should close the gap significantly on acquiring all VAMs, but we will see what comes back.
In June we want to focus a spotlight on the rarity of the 1881-O and the rarity of some Morgans often overlooked in discussions.
Because we have focused on the large number of coins out at VSS and PCGS there was time to explore another aspect to our collection. So we decided that this was a good opportunity to tackle the issue of toned coins.
We added a new link under the tab for "Our Collection" to link to these coins specifically. Coins identified for analysis also have a link from their individual pages to the toned section.
In this first round of coins we looked at fifteen coins in our collection and will add others when and if acquired.
Images
For each coin there is an image resolution of 200 pixels, and new 500, and 2200 pixel images. The 500 and 2200 pixel images have been altered to identify an area of focus for the analysis.
​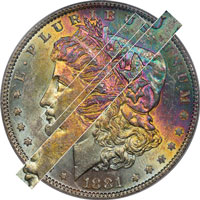 These are the same high quality photographs from VSS, just run through Photoshop to highlight and enlarge the area of study.
Sources of Data
During the course of our analysis we relied heavily on the work of Doug Kurz. Doug maintains an outstanding set of toned coins on the PCGS web site under the title "Sunnywood's 'Somewhere Over the Rainbow'". We highly recommend reading the articles referenced on the toned coin landing page and viewing his collection as a part of any study.
As an additional check on our logic we had several conversations with a local friend who has experience with chemical engineering. To the degree possible our layman's explanation of all this has been reviewed for accuracy.
Challenge
If you are like us and you are new to the science of toning, as we are, this is a fascinating topic and one that can add interest and fun to collecting.
For VAMers this can add more of a challenge to your collection. Finding spectacular examples of any Morgan in scarce VAMs can be even more of a challenge and can separate your collection from others.
Since all of our coins are cross-referenced the VAM identification can be seen on each toned coin. You can also follow the information for a coin from its specific page to the toned coin section.
We are obviously interested in changes in the prices for coins because of our goals for acquisition quantity. Just two years ago grades like MS65DMPL or MS66 would have been so far out of our reach that we would have stopped this analysis at MS65. But there is hope for acquisition, slim hope, but hope. The hope comes from the natural tendency for investors to look for alternative assets when the stock market misbehaves, and then to abandon those investments when the world gets right side up.
Market Crash of 2008
When the stock market crashed in 2008 there was a flight for many higher end investors to look for alternative assets that would hold their value. We saw an up-tick in the acquisition of artwork and in bullion. But there was an even bigger up-tick in the higher end of collectible coins.
No where is that more visible than in really high end Morgan Dollars, and since we are studying the 1881-O let's look at it.
Trending Values
We addressed elsewhere on this web site the number of graded Morgan Dollars and where price breaks occur. In a financial situation where there is a flight to hard assets and quality, the bar is even higher.
We saw this most clearly in grades MS66, MS65DMPL and to a lesser degree in coins like the MS64DMPL. According to NumisMedia, the MS65DMPL skyrocketed up to $39,380 at the end of 2010. From the US Coin Values Advisor we learned that this same coin was selling for $15,000 in 2009. Unfortunately for investors this same coin has now dropped to $12,800, a drop of over $5,000 in the last year alone. When measured from the height of the panic this is a two-thirds loss in value.
The MS66, arguably the most stable and collectible year in and year out, went from a high of roughly $20,000 at the peak down to $16,000. Less volatile than the MS65DMPL, but volatile none the less. But the winner in the flight to quality was the MS66+. This grade was selling for $20,000 in 2008 and today sells for $28,000. This coin was like buying fine art that retains its value through thick and thin.
Current statistics at PCGS would confirm the direction of these shifts but with slightly different figures. With the PCGS data we can confirm that in the case of both coins nothing has happened except the market value of the coins has returned to the pre-crash levels. NGC pricing confirms the same trends, but with slightly higher amounts.
If you are old enough to have been through other major stock market swings this information would not surprise you. As an interesting side note, coins below these grades moved up and down in a much more measured way, but to protect your assets in a down market you would have had to buy a whole gaggle of them, which probably wasn't available.
Lower grades have the advantage and disadvantage of having a much higher percentage of their value made up of the intrinsic value of silver. This is disproportionately great in an up market, but disproportionately bad in a down market.