This is one of those times where a lot of wheels are in motion and nothing is settle. So our attention has turned to analysis of existing coins and building the "Similitudes" section of the web site.
​

We have one coin with LVA for analysis that has the potential of being a new VAM. This one went out the last week in January, so it will be a little while before it comes back.
​

We had 40 new coins at VSS for photography and VAM certification. Those coins have now been returned and as soon as the images arrive we will post them to the web site. This will increase our study group by about 10%
​

Following our path of only using PCGS certified coins we sent a number of items there. There were eleven crossover coins, and twenty raw coins for grading. These coins are back and all but four crossovers made it, so we should have a nice group to send to VSS and keep a fresh group of coins in the pipeline for coming months.
​

If that were not enough we have another twenty coins at ANACS. These coins were sent there for restoration and grading. Once returned we had a 50% success rate with the repair and grading, which is a pretty good batting average.
We have now crested the 80% mark on VAM acquisition and plan to find the rest, but at a slower pace. Like any endeavor the 80/20 rule seems to apply and finding the remaining 20% will prove to be elusive.
Of particular challenge will be the VAMs 21 and 29. There are no photographs of these on VAMworld and they have not been seen since identified many years ago. There is the possibility that in time they have been incorporated into later discoveries, but we will not know until we locate what we believe to be examples.
Last month we posted an analysis of Liberty's hair on different VAMs and we revised that analysis this month because we have discovered more accurate patterns for analysis.
​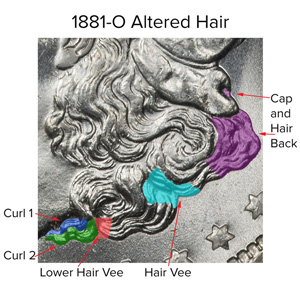 Like so many things in the study of Morgan Dollars what you start out knowing doesn't always end up being the whole story. This is definitely true with hair.
The two most distinguishing features and easiest to identify are the two curls just below the designer's initial. These are easily identified and one of the first things you see as you look at the coin.
The degree of polishing of this area is almost always linked to the polishing of the hair vees and reverse hair. So if you understand the degree of polish here you will likely see the other areas correspond.
We have grouped our coins in five categories that correspond to the degree of polishing.
In fact, our descriptors probably correlate closely to very early to very late die states. But those do not help collectors understand what they are actually seeing, so we opted for physical characteristics instead.
One of the good things about this analysis is that what we found is applicable to all Morgans and can be used to help analyze them. We have also discovered that the degree of polishing within a VAM is consistent.
We will update this discussion later in the month, but the information has become very interesting.
We are always looking for reasonably priced toned examples that we think are both attractive and will add to the knowledge of toned coins.
​
You can rollover the image to see where we believe the wrapper folds appear.
In January we picked up two examples that we believe fit that criteria. The coin above looks to us to be a roll toned example with some defined edges across the face and down the hair line behind the ear.
​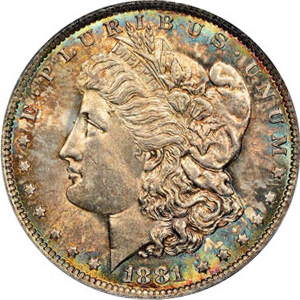 The second example is a coin that looks to have a lot of moisture damage in addition to the toning around the rim. It is impossible to know the exact history of a coin, but this coin is often believed to be bag toned and exposed to moisture and heat in the Mint vault. But however it acquired its color the rim area has something to say.
We recently started a conversation on polishing variations in the wings on different dies. We will get back to this topic, but it will come after the discussion on hair.
​