In May 2017 we started an analysis of die cracks that we are likening to the uniqueness of fingerprints. We continue that analysis at this point with dies associated with only two VAMs.
​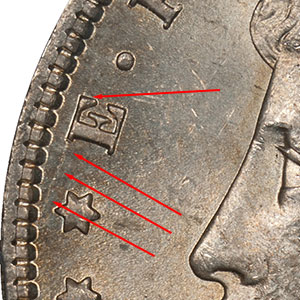 To observe the die cracks and breaks magnification is often needed. Also, high quality images such as the ones we use from VSS also help. Some die cracks are more visible in the high quality images because contrast is easier to create, which reveals the cracks. This analysis is really getting "down in the weeds," but that is a part of what makes this fun. Please remember that you are looking at later die states in most cases and coins of the same die/VAM combination will exist without many of these features.
Obverse Die 7 appears with two VAMs, 15 and 41. Both VAMs are labeled as Doubled 1, but in both cases it is the last 1 and not the first. Both feature the Spike in 8. The variation in the two VAMs is the reverse where VAM 15 is paired with a Normal Die a and VAM 41 is paired with Die p. Reverse Die p has doubled and tripled features.
Obverse Die 7 is one where we have a large number of examples. As of this writing we have sixteen examples with VAM 15 and seven examples with VAM 41. In no case do any of the coins exhibit any die cracks or breaks, so these are all early die state examples. But, we do believe the die was used on VAM 15 first and then later paired with Reverse Die p after re-polishing.
​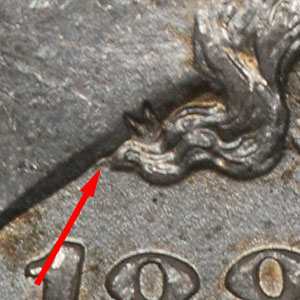 This image is from coin 29887680, an MS 63, VAM 15 coin. It shows a small tip toward the end of the hair curls and a small hair remnant under the designer's initial.
​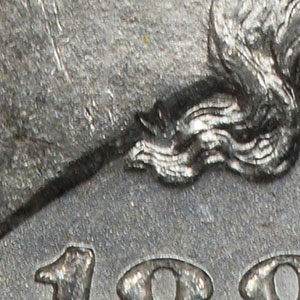 This example is from coin 03739502, an MS 63, VAM 41. In this example the hair tip is essentially gone, indicating some additional polishing.
There isn't a lot of difference in the two, but enough to notice and make us think that VAM 15 came first.
Obverse Die 10 appears on two VAMs, 1B2 and 18. These two VAMs are easily distinguished because VAM 1B2 is clashed and VAM 18 is not. We have a lot of examples of each VAM to work with for the analysis. There are ten VAM 1B2 coins and four VAM 18 coins. Characteristic of Die 10 is date doubling of the 18, which is present on both. But as a note, the Spike in the upper loop of the first 8 is just starting to develop with VAM 1B2 and can appear to be only an indication of a Spike all the way to a very small one.
​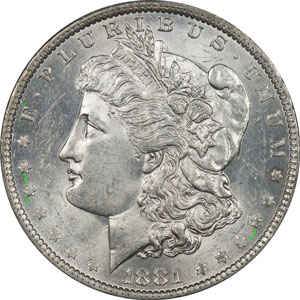 The above coin is 32819784, an MS 62 VAM 1B2. All of the die cracks exhibited on our examples are somewhat superficial and just starting to develop. In our photographs there appear to be some minor cracks developing in the hair around the larger bear claw, but these are not visible under magnification of the actual coin. We could not find these cracks on others under a microscope.
​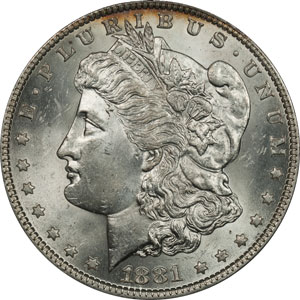 This coin is 21499159, an MS62 VAM 18. Unlike its counterpart the Spike in the first 8 is much stronger, but there are no signs of die cracks on any of our examples.
But which VAM came first, and how do we know? We believe that VAM 18 came first and was then followed later by VAM 1B2.
​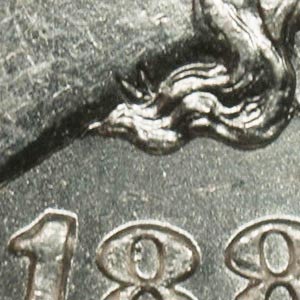 The above image is from our VAM 18 and shows that the hair terminates in a point almost as complete as a full set of curls. Also, the Spike in 8 feature is large but rounded.
​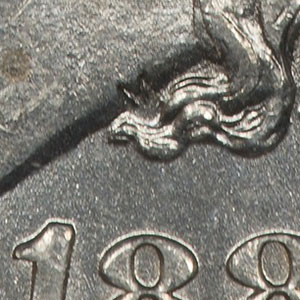 Then on VAM 1B2 the hair is truncated much shorter and the area immediately below the designer's initial has been cleaned out from polishing. The Spike in 8 has apparently been polished out, not completely but almost completely.
But this does not prove the origin of the Spike in 8 because we don't yet have proof that VAM 18 is the earliest die state.
Obverse Die 13 is paired with Reverse Die d to form VAM 22. The reverse die has a mint mark that is centered and tilted left. When paired with Reverse Die a this forms VAM 49, but with the distinctive feature of a die gouge through the DOL in DOLLAR.
The common characteristic of Obverse Die 13 is distinctive date doubling of the first and last 1 at the top of each numeral. We have twenty-three examples of VAM 22, but only three of VAM 49 which we would assume is the less common.
None of the three examples of VAM 49 show any signs of die cracks or breaks, nor do the examples of VAM 22. Interestingly the die shows the same degree of polishing, so it was not removed from service to be re-basined between uses.
Die 13 shows the familiar Spike in 8 with both VAMs.